Search our Archives:

» Home
» History
» Holidays
» Humor
» Places
» Thought
» Opinion & Society
» Writings
» Customs
» Misc.
Jewish Health Issues
By Sara Ryan
An exciting new project - Jewish Health Issues - is being carried out at the DIPEx Health Experiences Research Unit based at the University of Oxford. We would like to interview people from the Jewish community who have direct or indirect experience of health issues that are often related to their ethnic background. This includes certain cancers such as some types of breast and ovarian cancers, conditions like Tay Sachs disease, Gaucher Disease, cystic fibrosis, Canavans Disease, Crohn's Disease, Niemann-Pick syndrome,Familial dysautonomia and those who have experience of issues surrounding death and burial practices. The main project output will be a Jewish Health section on the award winning website, www.healthtalkonline.org.uk as well as papers for academic journals.
What is Healthtalkonline?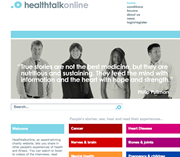 Healthtalkonline is a collection of interview studies of the experiences of health and illness. The research is led by the DIPEx Health Experiences Research Group based in the Department of Primary Health Care at Oxford University. The accounts are presented on the website in written, audio and video format and aim to give information and support to patients, their family and carers. It is also reassuring for people, experiencing different health issues, to know that other people have had similar experiences. Healthtalkonline can inform health professionals, from the patients' perspective, what it is really like to have an illness, enabling its use within teaching and training settings.
The interviews on the site discuss different aspects of people's individual experiences from initial diagnosis, symptoms, treatments and treatment choices and the side effects of the particular disease or condition, to talking openly about issues such as living with the condition, the effects on relationships, telling family and friends and even the most difficult decisions about end of life choices. The interview methods based on oral history tecniques will enable us to explore people's perceptions on their health of the effects of migration, culture, ethnicity , family structure and traumatic events.
We provide links to reliable medical information about each condition or illness, links to other organisations, support groups and useful resource materials. At the moment the website has published over 40 modules covering screening programmes, heart disease, chronic pain, pregnancy, diabetes, mental health, neurological conditions, long term health issues, intensive care and living with dying, amongst others.
There is also a site for young people, www.youthhealthtalk.org, which covers teenage cancers, epilepsy, depression, diabetes and long term conditions.
Each module is based on detailed, qualitative academic research. The researcher conducts interviews with a purposive sample (approximately 40-50) of people from a variety of ages and backgrounds. The participants are recruited through relevant organizations, patients' clinics and GPs, as well as direct volunteers. An advisory panel of experts, clinicians and patients is formed to help and advise the researcher. The interviews are analysed and prepared by the researcher before being passed to the DIPEx charity for the website team to prepare and format them for inclusion into the website.
The site is a unique resource in the field of patient and healthcare information and is aimed at several audiences. Our aim is to have access to Healthtalkonline available in all GP surgeries, out-patient clinics, PALS groups and in public libraries to ensure access to all.

The DIPEx charity is chaired by Lord Andrew Stone. The whole project was co-founded by Drs Ann McPherson, a GP for 30 years, after her own diagnosis of breast cancer and Andrew Herxheimer, a clinical pharmacologist when he needed a knee replacement. Ann McPherson said 'Being a doctor and aware of a possible genetic link, when found out I had breast cancer some years ago and more recently being diagnosed with pancreatic cnacer, I did wonder whether being Jewish had something to do with it'.
What will taking part in the project involve?

Sara Ryan, a Senior Researcher with the Research Group will arrange an interview at a time and location that is convenient to you. The interviews usually last between 45 minutes and two hours and you can be interviewed on your own or with a partner or other family member(s). The interview will be transcribed in full and you will be sent a copy of the transcript to check through and amend as relevant.
Once the interviews have been completed, the data will be analysed and the key themes that emerge from the research will be written up as topic summaries for the website. With your permission, the interview will be video recorded and short clips from the interview will be used to illustrate these summaries. If you prefer not to be filmed and to remain anonymous, we can include text only extracts from the interview with all identifying factors removed - it is entirely up to you which format you would like used.
If you are aged 16 or over and would like to hear more information about the project, please contact Sara Ryan at sara.ryan@dphpc.ox.ac.uk or telephone 01865 289374.
~~~~~~~

from the January 2009 Edition of the Jewish Magazine
Please let us know if you see something unsavory on the Google Ads and we will have them removed. Email us with the offensive URL (www.something.com)