Agnon House
By Jay Levinson
Shmuel Yosef Agnon (1887-1970), better known as "Shay" Agnon, based upon the initials of his first and middle names, was the son of a rabbi who also dealt in furs. He was born in born in Buczacz, Galicia (today in the Ukraine), and at the age of 21 immigrated to Palestine. Born with the family name, "Czaczkes," he assumed the pseudonym, "Agnon," based upon a short story that he wrote about "agunot" (women left without a divorce and forbidden to remarry).
Even at a relatively early age, Agnon realized that he had an unusual skill for writing. He moved back to Germany in 1912 to broaden his education, and to earn money he taught Hebrew. He married one of his students, despite her parents' vehement objections to having a writer in the family.
Agnon solved financial problems at the beginning of his career. He was befriended by Salman Schocken (1877-1959), later to become a noted publisher, whom he met in Berlin during World War I and became the sole publisher of his books. There was never a question if a book would be accepted for publication. There was never a question of money. One manuscript that Agnon wrote, though, was never published; the virtually complete novel was destroyed in a fire in Agnon's residence in 1924. Stunned by the loss of his work and his entire library, Agnon decided to return to Palestine. His family followed him a year later.
Tragedy again struck Agnon's library in 1929, when his rented house was wrecked during the Arab riots. The library was a total loss. His family had been staying with relatives in Haifa; he fled seeking safety in the center of Jerusalem. When he returned to his residence, virtually nothing was left. Something had to be done. Agnon decided to build a new house --- a structure that would be his house.
The house that is now a museum was designed by Fritz Korenberg in bauhaus style with characteristics almost like a fortress, much to the distaste of Agnon, but certainly understandable for security reasons. That house remained his residence for the rest of his life except for his final months when he was confined to a senior citizens home. The house was on the edge of Talpiyot, with a view both of the Old City (a walk of an hour, if not less) and of the Dead Sea.
The house is not faced with Jerusalem stone. The exterior walls of most buildings in the city have dolomite limestone facing, otherwise known as "Jerusalem stone." This was by edict of Ronald Storrs, the second British military (then civilian) governor of Jerusalem, appointed in 1917. He supervised the Mandate master plan for the city drawn up in in 1918 by Sir William McLean. The house was obviously built after the regulation went into effect, so why was it exempt? Simple. At the time Talpiyot was a suburban neighborhood outside the city limits. Jerusalem regulations did not apply.
Agnon's lifestyle in his Jerusalem home was autocratic and nurtured family bitterness. His upper-storey workroom was off limits to others. He reportedly would lower manuscripts to his wife on the first floor, then retrieve them from her after typing.
For a short time as a young man Agnon adopted a secular way of life. He soon returned to religious observance and remained that way until his death.
Oddly, more of Agnon's novels were published posthumously than during his lifetime. He themes were almost without exception Jewish, and he demonstrated a remarkable mastery of Biblical and Rabbinic Hebrew, as well as Midrashic literature.
The peak of Agnon's achievements was sharing the Nobel Prize for literature with Nelly Sachs (1891-1970) in 1966.
"Shay" Agnon is buried on the Mount of Olives, but his legacy lives on. His works have been translated into more than 40 languages, including Chinese and Arabic. The City of Jerusalem bought the house in 1970 after Agnon passed away and eventually turned the building into a museum. In 2007-2008 renovations were made to restore the building to the way it was during Agnon's lifetime.
There is disappointingly little to see in the museum. An original coat rack can be found at the entrance to the house, as well as a small ante-room with table and setting, chairs, a heater, and radio. The upstairs workroom, including Agnon's book collection, can also be viewed. Perhaps the best reasons to visit the museum are the lecture and seminars that are presented. The building also gives insight into the nature of the man and his working milieu.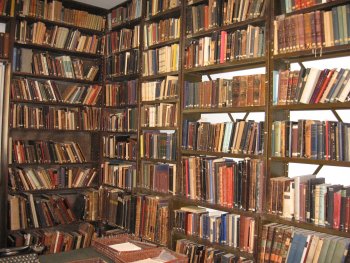 Rechov Klausner 16, Talpiyot. Open Sunday-Thursday 0900-1500; Friday and eves of holidays 0900-1300. Closed on Shabbat. Bus No. 7. Entrance fee: Adults NIS 20, Children/Seniors NIS 15. Forty minute audio tape (Hebrew, English) available at no extra charge. Telephone: 02-671 6498. Not handicapped accessible.
~~~~~~~

from the October-November 2009 Edition of the Jewish Magazine