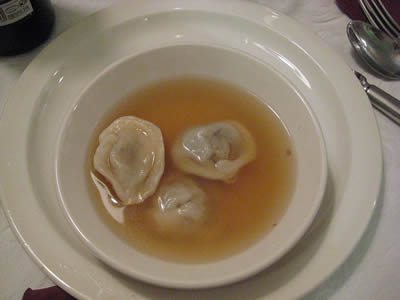 Photo From Wikimedia Commons
Kreplach
By Judith L. Goldfarb
After explaining to Tony what "kreplach" (the Jewish equivalent to Chinese dumplings) are, I've been thinking a lot about my grandmother, who made the best kreplach I ever tasted.
I remember the cooking aromas coming out of my Grandma's kitchen, and how my mouth watered when I entered her house. There was already a chicken in the oven, but she waited for me, to help her put the kreplach together. The dough was already made; sitting in a bowl, covered with a kitchen towel. We'd dust the table and her old wooden rolling pin with flour. And because she was deaf, she never realized how loud it sounded, when she banged the rolling pin down onto the table, to roll out the dough. I'd put my hands in between Grandma's on the rolling pin, and together, we'd roll. "Not too thin," she'd remind me. "The noodle needs to keep the meat safe!"
She'd take all the leftover meat in her fridge - mostly chicken - and, placing it into a huge wooden chopping bowl (probably not as large as I remember), along with onions fried in schmaltz (rendered chicken fat), she'd use a hand chopper, and work the meat until her hand hurt. I was still a little girl; not allowed to handle the chopper, so the best I could do was rub her hands. I remember taking her hand between my two little ones, trying my best to rub the pain away. And I remember feeling the arthritis bumps on her fingers. "A mechayah!" she'd say, smiling at me as I massaged her hands. "A mechayah!"
Grandma would cut the dough into pieces small enough to make each individual krepl, and I would take a large pinch of the meat, place it in the middle, fold the dough over, and press it closed. After they were all filled, she'd stand at the stove. One by one, I'd hand them to her, and she'd place them into a pot of boiling, salted water. She'd always tell me that they tasted better because I helped. They'd boil for about fifteen minutes, and then she'd add them to the pan of chicken, baking in the oven.
And when it was time for dinner, she'd bring everything to the table, and proudly announce, "JUDI made the kreplach!!!"
Since my Grandma never measured anything, I can't give you her exact recipe. The one below is my mother's, and it's as close as I can get to Grandma's. The meat that Grandma used was always whatever was leftover in her fridge - usually chicken; occasionally it was combined with some beef.
DOUGH:
1 ¾ cups flour
2 eggs
½ tsp. Salt
1 Tbsp. Oil or schmaltz
Knead and roll out, not too thin, on floured board. Cut into 3-inch squares.
FILLING
1 cup chopped cooked beef and/or chicken
1 medium onion, grated
1 tsp. salt
Take a generous pinch of the meat combination, and place it in the center of one of the squares. Fold the dough over and press to seal. Place in boiling salted water. Cook approximately 15 minutes until kreplach float to top. Once they're cooked, place into a well-greased baking pan and grease the tops as well (you can use pan spray for this). Cook at 350 for 10 minutes, or until desired browning is achieved.
~~~~~~~

from the June 2013 Edition of the Jewish Magazine

Material and Opinions in all Jewish Magazine articles are the sole responsibility of the author; the Jewish Magazine accepts no liability for material used.